"Re-formulation of construction Industry with BIM 5D"
BIM 5D, which comprehends the customary three-dimensions of a BIM with schedule and cost estimates ad the fourth and fifth dimensions, is an evolving segment of the construction industry. So, the contractors can estimate the timeline for the project, the cost of the entire project bearing in mind the quantities of materials resulting from the model and the productivity rate of construction staff. We can say that BIM 5D brings a significant change in the way construction companies work by offering an exceptional opening to unite practices in design, cost and construction approaches.
BIM 5D is a method that is acceptable for people in the construction companies including senior management. They all are so keen to take real steps in implementing BIM 5D model design in their companies successfully. BIM 5D helps for real-time cost data that comprises of design procedures, real-time quantities as design changes and real-time updates to project budgets.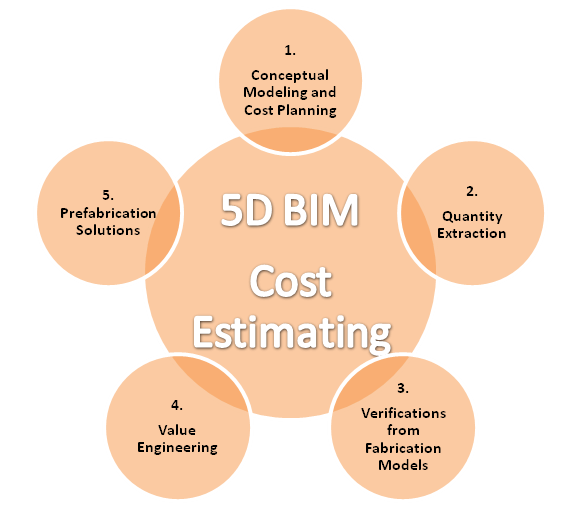 As BIM incorporates the cost estimation ability to the BIM model, any change in the design will get reflected in the budget immediately.  With 5D model, the architects, contractors and engineers can work on a live model, as it ensures that the cost calculations are changed automatically when a change is brought to the design and structure.  The main benefits of 5D BIM for owners and decision makers of a construction company are the following.
5D BIM helps build a database of cost and pricing, crew composition and labour productivity rates.
5D BIM helps get cost-loaded schedules, detailed analysis of project risks and accurate cash flow forecasts.
It helps us understand how a change in the design of a project will influence the scheduling and budget of the project.
With 5D BIM tools, the construction companies can compare multiple cost estimates with the target cost of the project that helps make more informed decisions.
It enables us to understand which areas of the construction work add to the total costs and how.
As BIM 5D can access to detailed information about costs and schedules, the construction team including owners, contractors, engineers and all other members associated with the project can achieve timely delivery, cost efficiency and quality by working collaboratively. According to the experts in the construction industry, 5D in BIM brings a paradigm shift in the construction process. It can estimate costs more accurately and thereby improve the functionality throughout the life cycle of a project.