BIM on Mobile: BIM on its way to Mobile
The biggest challenge of construction workers is to get the required information at the correct time to do the job properly. Many times, much time is lost due to this problem. Even though this problem is manageable, if the site is only minutes away, it rarely happens in some cases like major construction projects for roads or other infrastructure. Mostly, the workers have to travel miles carrying huge quantities of paper-based information including, drawings, equipment schedules and method statements etc.
The unavailability of information on proper time or the availability of incorrect information may cause a big loss to the construction companies. Many times they have to rebuild and spend more for additional materials or waste time with workers left idle due to lack of information. Here comes the importance of using BIM on mobile.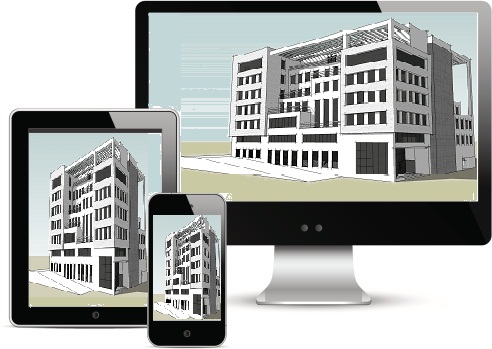 BIM shares not only 3D designs but also the related documents including anything from the part reference numbers or documentation through the maintenance schedule, to the social media conversation in which decisions are made about how best to construct it.
With the use of a consolidated information resource like mobile, the BIM can be extended from the original design through an on-site construction to on-site maintenance and repair. The technology can improve all information including drawings, specifications, and method statements, commissioning requirements, environmental assessments, and supply chain logistical information and health and safety assessments.
If the workers are accessible to the information relevant to their role and the task they are performing at the point of activity, they can dramatically improve their efficiency and productivity. Moreover, location-based technologies and services can be used to identify the worker, their location on site and work package etc. This information, which is available both online and offline, can ensure workflows continue seamlessly, through BIM on mobile.
Many challenges like the availability of connectivity, health and safety concerns and durability of devices etc are associated with delivering mobile technology on a construction site. The risks associated with the distraction of the operative force many construction companies are to ban the use of mobiles on work site. It may put them in direct danger from powered equipment or other site-based hazards and obstacles. Using Real-Time Location Services (RTLS) technology is the only solution to this problem, as it can leverage Wi-Fi and other systems to alert the persons to the equipment or vehicles near to them.
Nowadays, construction companies work hard to embrace BIM to improve information sharing across the supply chain, because they know that those who fail to respond to the mobile imperative will struggle to achieve the efficient and effective operations required to compete in an increasingly competitive marketplace.